Griffin PowerJolt Dual Universal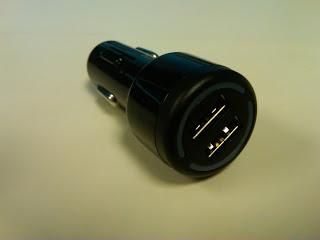 I just received this in the mail this morning! The Griffin PowerJolt Dual Universal gives you not one, but TWO USB ports in your car's 12 volt accessory socket!
I find myself taking hour long car trips a lot, which equates to two hours of total drive time. Since I use an iPod for all of my musical goodness in my car, if I start the trip with a low charge it might not make it. This little beauty solves that problem, and since there's two ports I can even charge my Storm if I need to. Good stuff, Griffin!